Hi, everyone Sawadee kap~!!
Japan still has a cool day, but Thailand was a scorching over 35degree, It was hell !!
Thailand seems to be the hottest season in April and May!
On that day, we went to Wat Arun & Wat Po by public boat by myself.
This time, I made "boat map" and "sightseeing spots in Bangkok" to make you easy to understand!!
Thailand is a very cheap public ship (15 ~ 32Bath!), So it is possible to go for 48Baht (about US$1.6 !!) even if it is only the fare for the boat!
Let's go to Wat Arun & Wat Pho by yourself  !!
How to get to
Wat Arun
Wat Arun & Wat Pho is a representative temple in Bangkok, in the city of them!
As it is Bangkok city, we can go without spending much time, and movement is mainly "boat"!
It goes across the river of life of Bangkok, "Chao Phraya River"!
It's very Bangkok like this and very fun,  it's cool and comfortable to move around the water by boat
Well, the first step is to get to the "Sathorn Pier"!
How to get to Wat Arun①


Beginning of the trip is
Saphan Taksin Station
& Sathorn Pier 
Bangkok Route Map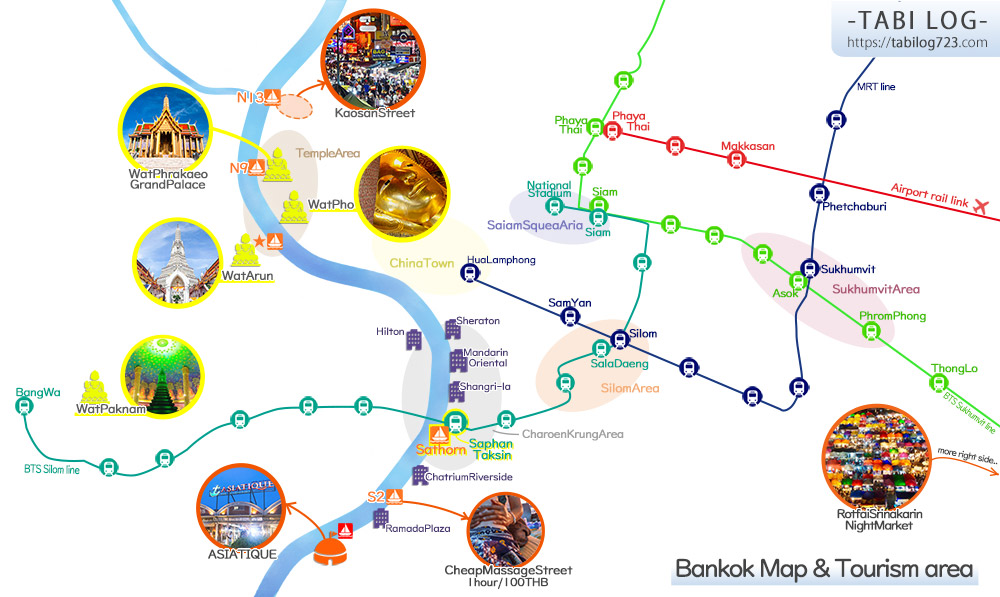 ※Click on the map to enlarge! Please save and use locally! (Please note that we can not take responsibility even if there are mistakes or changes in the contents ...)
※If you want to use it for commercial use, please be sure to put a link on this page
'Sathorn' is a main Boat landing place. There is a BTS (sky train) station 'Saphan Taksin' in the immediate vicinity of this.
First of all, go to the 'Saphan Taksin' station!
As soon as you exit Exit 2 of Saphan Taksin station, there is a boat landing for Sathorn!
How to get to Wat Arun②


Take a Boat 
'ChaoPhrayaExpress'
(public boat)

Once you arrive at 'Sathorn', take a boat called 'Chao Phraya Express' and go to 'Wat Arun' !

'Chao Playa Express' is a cheap public boat in Bangkok, around 13~32Baht (US$0.42~1) !! Let's use it!!

 
 There are 3 types of boat at ChaoPhrayaExpress!
The type is determined by the color of the flag attached to the rear of the boat.
To get to Wat Arun, take 'Orange Flag' or 'Yellow Flag' !
It depends on the time of day, but it is recommended  'Yellow Flag', because the boat has fewer stops.

 Orange Flag  …
nomal stop boat
・Time
 6:00~19:00
・Fee
 15Bath (US$0.5)

 Yellow Flag…
Express boat (only morning/night)
・Time
 6:00~8:00, 17:00~20:00
・Fee
 20Bath (US$0.65)

 Green flag…
Express boat  (only morning/evening)
・Time
 6:00~8:00, 16:00~18:00
・Fee
Change in distance13~32Bath (US$0.4~1)
Route map of ChaoPhrayaExpress
The departure of the boat is the Red Line 'Sathon' ! You will take a boat from there.
How to get to Wat Arun③


Buy a Boat Ticket
of ChaoPhrayaExpress
Then you get to Sathorn, buy a ticket for the boat !
If got to there,  the Chao Phraya tourist boat staff(wearing a light blue shirt) saying "Hellow, Where do you go?", and induce to the 'Chao Phraya tourist boat '... but it's not 'Chao Playa Express'!!
It is hard to find the ticket place of Chao Phraya Express ...
↓Here!!
 Buy a ticket here. You will be asked the destination, so if you say 'Wat Arun', they will sell tickets for 'Orange Flag' or 'Yellow Flag'!
When I got there, already arrived a 'Yellow Flag' boat, we bought one for 20Baht and got on board!
How to get to Wat Arun④


Take the orange flag boat
or the yellow flag boat
The flag of Chao Phraya Express is behind the boat!
We saw it↑ "What is it Gold flag...!?", but it's a Yellow flag!!
In the case of the yellow flag, the third stop was 'Wat Arun', it was good early◎!
You can go there by
Chao Phraya Tourist Boat

(HOP ON HOP OFF BOAT)
By the way, you can also go to Wat Arun with 'Chao Phraya Tourist Boat'◎! 
The boat is travels the main tourist spots around the Chao Phraya River!
★Chao Phraya Tourist Boat 
         =travels the main tourist spots
・Time 9:30~17:30
・Fee 180Bath/day (US$6)
The Boat is expensive BUT heavy traffic can be Avoided!
 'Chao Phraya Tourist Boat' is more expensive than a public boat, and business time is short, but there are many seats ! 
And there are not many people buying tickets because high price than pubic one,so it seems that they can certainly sit and move.If you want to move comfortably, it may be better to use this◎
Moreover, if it is this ship, it can go to Asiatique! (But business time is short!)
Wat Arun 
 Let's Sightseeing the temple
The boat will stop right in front of Wat Arun, so it's quite easy to understand the timing of getting off!
Introduce you about Wat Arun !!
Wat Arun
Amission fee, Clothes
and Opening hours
First of all, from the basic information of Wat Arun! Unlike Japanese temples, there are restrictions on clothing, so you need to be careful about clothing, though it is hot Thailand.
Wat Arun opening hours: 8:00 to 18:00
Be careful that the ticket office closes at 17:40!
Wat Arun admission fee is 50 baht 
This brown building is the ticket office! As soon as you get off the ship and walk straight you will see it. 50Baht (= about US$1.6)
Dress sleeveless · put out legs · those with clear lines of the body is NG!
Wat Arun seems to be particularly bad when you can see your feet! It is better to be careful with the tops as the Wat pho can not wear a dress that looks like a shoulder. T-shirt is OK! Thai pants are also OK!
That is a 
Wat Arun
Wat Arun is impressive with beautiful pagodas. It means Wat = temple, arun = daybreak.
At the beginning of this tower was only 16m, but it was remodeled by Rama III and IV to become the huge tower of 75m now!
The highlight is the temple wall! 
It's just a white tower when seen from afar, but when you look near it you can see that it has a very fine decoration! Not only the shape but also the color is vivid! 
Look like this when you look at it ↓ It is a surprise because the decoration of all wall. The tower is supported by Indra God Garuta, Monkey God, and other gods that appear in Ramakien!
Wat Arun can climb the second floor!
And Wat Arun can climb up to the second floor, although the stairs continue to the top. I can not go further than that. However, the second floor had a great height! The pattern on the wall is cute!
Animal statues are also cute!
There are statues of these animals near the stairs of Wat Arun, but they all have lovely faces and they are cute!
That's it, Wat Arun!
How to get to
Wat Pho
After seeing Wat Arun we will go to Wat Pho!
These two temples are on the side of the river, but Wat Po is on the opposite side so take a pass by a ferry boat!
In the old days a public boat seemed to have arrived at Wat Pho, but now it doesn't stop ...so it's only 2way to go to the Wat Pho,
1 From Wat Arun take a ferry boat
2 Go to Wat Phra Kaeo's 'ThaChang' and 15 minutes walk.
I will introduce the first way.
How to get to Wat Pho①
Take a Ferry Boat
This is the Ferry dock for Wat Arun!
From Wat Arun, take the ferry to Wat Pho's 'Tha Tian' dock!
How to ride a ferry is very easy, and the price is 4 baht (US$0.13) . Quite cheap!
But if it is the first time, the landing area may be a bit confusing!
The location of the ferry is the most right seen from the Wat Pho!
I think that you'll confuse there cuz there are some docks...
When you see Wat Arun from Wat Pho like that, the ferry located most right on Wat Arun (Yellow circle) . So, if you are in Wat Arun, aim to the left end!
How to get to Wat Pho②
Pay for Ferry fee 4THB
This photo is the Tartian Pier (Wat Pho side)…Wat Arun also looks like this!
Pay 4 Baht and wait for the boat. The boat leave at about 15 minutes interval!
How to get to Wat Pho③
5 Min's on Foot
 It takes about 5 minutes to get to Wat Po from the dock, but you may get lost at the ticket office.
Even if you can see the site of Wat Pho, go straight as shown on the map and you will see the entrance on the right side.
Wat Pho 
Let's Sightseeing the temple
From Wat Arun to Wat Pho is close! You definitely go sightseeing together! There are many temples in Thailand, but Wat Pho is amazing and I love it!
Wat Pho
Amission fee, Clothes
and Opening hours
Then it is basic information of Wat Pho.
Wat Pho Opening hours 8:30~18:30
As there are many places to see in Wat Pho, I think it's better to estimate your stay for an hour!
Wat Pho Entrance fee 200Baht (with a drink ticket!)
The admission fee for Wat Pho is slightly higher at 200Baht (US$6.5)! However,  the ticket with a drink ticket so do not lose it! It is hot in Thailand, so this water is quite thankful!
Dress sleeveless · put out legs · those with clear lines of the body is NG!
The clothes at Wat Poe are a bit stricter and it is NG that the body line comes out! If you want to wear something that fits your body or if you want to wear shoulders, you may want to bring a something what can hide the lines of the body!
That is a 
Wat Pho
Wat Pho is the oldest and largest royal temple in the Bankok! It is this golden statue is famous 'Nirvana Buddha'!
It is huge with a total length of 46Meter and a height of 15Meter! It has a calm face. This is spectacular! !
Another thing you should look at is the soles of his feet ! 
And you should see one more thing is the sole of the foot!
This seems to have 108 figures representing the Buddhist worldview,This stunning flatfoot represents the enlightened Buddha's "superman's aspect"! I have flat feet too!
Overwhelmed mural
The statues is amazing, but the walls surrounding the statues are amazing too!A picture is drawn on the entire surface of the wall! The touch and color of this soft picture calms me down. 
The use of color patterns is also cute!
Let's throw away the 108 worldly passions!
You need to look at Wat Poe and you have to do it!
There are 108 pots for throw away the worldly passions, on the back of the statue . It is said that if you put coins one by one in this pots, you will lose worldly passions!
 At first, buy coins for 20Baht.
Like this, put one coin in one pot and walk. Now you throw away your worldly passions! Let's go ahead without mind!
「(nothing)………(forget the 'nothing' soon)………be rich、be rich、be rich、be rich!Buddha, Change me to be a rich! namu-namu! 
You can get water with a ticket!
After observing the statue and having 108 worldly passions that can not be abandoned, you should be tired!! Let's exchange water with drink ticket!! 
The water stand is out of  the temple and it's left back! It is a light blue tent!
This back of the building is in a statue, there is a drink stand just to the right hand when you see this!
It was so hot on this day that just looking at Wat Arun and Wat Pho had limited my strength, so I could not go around and see anything else!
There are various exhibits as well as the statue, so I think it's better to go around if you are energetic!
Massages in Wat Pho area is
Expensive
There are two massage shops in the area! We can receive students massage of  massage school! But! ! Here's massage is expensive!
It depends on the course, Foot massage 420Baht/1hour(US$13.5) etc.!
That's too high!! You can get a massage at a better price in town,You can go to the discounted massage area with the orange flag boat, so it is recommended!(Directions will be written last!)
↓ This Massage was only 100THB/1hour($3.25) !!
Thai Travel Rep④The lowest price in Bangkok !? I went to Cheap massage!! about tip and price...? 
Go Back to Sathon 
Take a boat from Wat Arun
There is Wat Phra Kaew (Royal Palace) about 10 minutes on foot from Wat Pho, it's good to go there◎!
From Wat Phra Kaew, there is a nearby 'ThaChang' dock where you can get on the Chao Phraya Express 'Orange Flag' and 'Green Flag' boats so you can return from there!
I did not go to Wat Phra Kaeo, and back in the same way as when I came, but it is difficult to understand the boat landing place, so I will write aboute it and finish it!
Get Thai Pants
Before you go back
Souvenir shops are in the vicinity of the ferry landing area.
The souvenir shop's Thai pants are abundant and cheap! If you want to get a tie pants here is recommended!
There are Free size (Adult size) and M size (Child size), and various types of tie pants from standard pants style to rolled skirt style!
However, the durability is weak, and it seems that men tend to tear their crotch...
Way back to Sathon①
Take a ferry to Wat Arun
Take a pass from Wat Pho to Wat Arun in the same way as you came!
The landing place for the return boat is the left end of the orange circle when seen from the Wat Pho side! (When you arrive you will be dropped in the middle)
There is a landing place along the left wall so walk off there when you get off the ferry!
 Way Back to Sathon②


Buy a Boat Ticket from
Chao Phraya Express staff
Chao Phraya Express staff are waiting around the corner! Buy a ticket from this person!(Or you can buy it on the ship, but the ship's staff is often quite frustrating…lol)
 Way Back to Sathon③
Take a Orange or
Yellow flag Boat
You can return to Sathorn (Saphan Taksin) by taking a boat with a Orange or Yellow flag!
Depending on the time and timing, if yellow flag is express,so convenient to arrive early◎ As this boat is always crowded, it may be hard because it will be a bit crowded & time consuming if it is orange ...!
Drop by on the Way


Super Cheap Massage Area
the next stop 'Sathorn'

If it is an orange flag boat, it takes about 15 to 20 minutes to "Sathorn"…If you get off at  next stop at 'Sathon',  named 'Wat Worachanyawas' !! There is a super cheap massage area! 

It is 'temple' rather than 'area' but ...! Anyway, There are many cheap massage shops !!

I have received a massage of 100 THB for 1 hour at a massage shop with the best location to see the river! 




 

 
Summary
As these two famous temples are in Bangkok, I could easily go around by myself for the first time, so let's try!
It was 48Baht (US$1.6) only the fare for the boat, so I was able to do it really cheaply!
If you are not confident in your fitness, you can go on tour!
Thailand heat and temple crowd included,Furthermore, the temple is quite large...It's hard for ourselfs(around 30). So if you haven't confident in your physical fitness, I recomend book tour!!