Hi everyone, Sawadee kap~!!
A week has passed from that fun trip to Thailand. 
Thailand was a scorching hell of 40 degrees, but Japan has finally increased the number of days like summer days!
Well, this time I would like to write about a day tour of the 2nd day!
Hotel pick up was 6:20a.m.! (too early!!lol)
And it was over at around 19:00!
During these 12 hours or more,
I went around the MaeklongMarket, FloathingMarket, ElephantRiding, and 4 AyutthayaRuins!! 
In fact, it is the second time to participate in this tour.
I joined this tour when I first came to Thailand and it was a lot of fun! So I wanted my parents to have an experience!
Well, look at the state of such a tour!
Tour schedule
The tour schedule like that↓
ー Tour schedule ―
<in the Morning>
・
 Pick me up at the Hotel
・
MaeklongMarket
・
Restroom at coconut farm
・
FloathingMarket
<in the Afternoon>
・
Hotel buffet in Bangkok city
・
Visit 4 Ayutthaya Ruins
・
Elephant riding in Ayutthaya
・
Back to Hotel
 It takes a lot of time to move, but it was good because I could take a break on the bus ◎
Then take a look at the tour!
Watch the train passing by in front of me at Maeklong Rail Market!
At first, we go to the Maeklong Rail Market from Hotel !!
Local people are calling this market "Tarato Rom Hoop = Market to close umbrellas" 
People are doing business by the side of the track in this Meglon market, but it seems that the name is given because the tent is folded only when the train passes.
Originally it was the beginning of poor people in Thailand who built houses near this track and started doing business.
Not only Thailand, in developing countries, people who can not have a home on such an ordinary land tend to build a house near the railway.
By the way, The largest slum in Asia in India (Mumbai) was also near the railway..
The market is too fun! They're doing business just beside the railway!!
Once we arrived at the market, we walked towards the railway.
Actually...They're doing business just beside the railway!!
They put the shop on the side of the railway, our walking place is only inside the railway ! lol
A market with anything!Smell of raw fish!This is Asia !!
All things are on sale in this market, but there are quite a lot of food such as vegetables and raw fish!
May is the hottest summer time in Thailand, with temperatures rising to 40 degrees during the day.
The fish shop's area smells of strong raw materials because it sells the fresh food under the scorching sun!
・Egg shop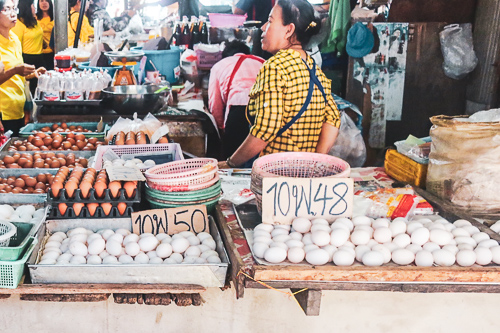 ・ Dried fruit shop
 ・Vegetables shop
 ・Spice shop
 ・Grilled toad next to vegetables..burned flog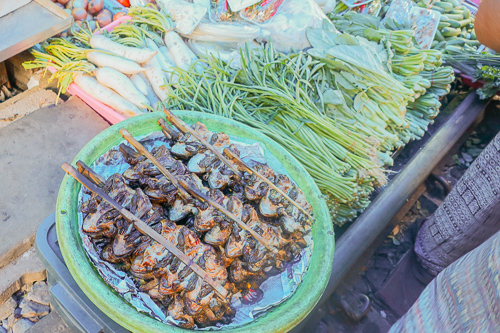 ・Accessory shop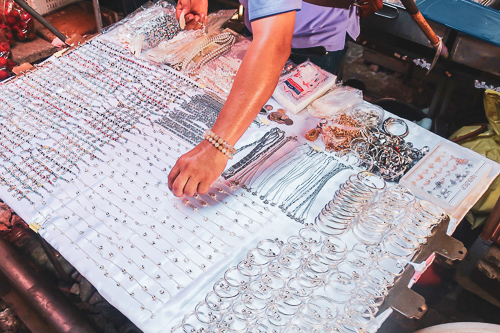 ・Thai pants shop
The train has come! Avoid it!
 When I was traveling on the market like this, the announcement flowed out.
At the same time, the shop staff put in selling-things and start to fold the tent.
Shop staff shake them hands to the people who are still on the track and saying "Enter in!".
A few minutes after the announcement, the train appeared soooo slowly!
As soon as the train passes like this, they put on their tent again and start the business!
There are videos, so please take a look!
Everything is cheap! Fresh mango smoothie is also cheap and delicious~!
Well, if I walked on the railway, I reached the station.
There were food shops and shops selling smoothies, so I decided to drink with mango smoothies!
The smoothie is 30Baht = 100 yen(US$0.9)! That's too cheap!
When I come to Asia, definitely drink a mango smoothie !! Mango is cheap and delicious in South Asia!
In Japan, mango is a high-class fruit, so it costs ¥1000-2000(US$9-18), but in South Asia, it can drink for around ¥100-200 (US$0.9-2.8)! And big size!
The Maeklong market was a funny spot to feel Asia to the fullest!
Surely it was fun even with photos alone?
The first time I went to the Mae Klong market was really fun and the prices were all very cheap!
After enjoying the Makeron Market, We went tothe restroom at Coconut farm
before the Floating Market!
Restroom break at Coconut farm
It is a coconut farm that I stopped by at the restroom.
Here we could know that how coconuts  used in Thailand.
I got some sweet coconut!
Guide put coconuts on their hand.
How was this coconut made...I forgot it clealy!! lol
Although it was sugar-free, it was pretty sweet and delicious!
Selling coconut souvenirs!
There are many souvenirs made of coconut here.
Figurines, soap and coconut oil, there are.
The coconut figurine is so cute!
Toilet is charged!
Although there are many in other countries, this toilet was also charged. I forgot the price, but a few baht.
Of course it coudn't wash the paper! 
I got a small boat at the water market!
The floating market was about 10 minutes drive from Coconut Farm.
こThis floathing market name is  'Damnoen Saduak Floating Market',  It is the largest floating market in Thailand !!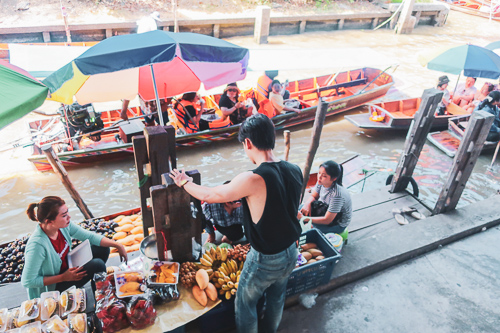 Get a boat on the 'Damnoen Saduak Floating Market'!
If you come to the water market, you have to get on a boat! 
I was able to get on at 200 baht per person for extra charge.
The last time I did not have Thai baht at this floating market, I got a cat's figurine with a Japanese yen 1000 yen bill...
This time I have prepared Thai baht for extra!
・They will ship to the souvenir shop you intersted in
When I took a boat, They start rowing.
There are a lot of souvenir shops in the water market like this!
・Basically, souvenirs are charged quite high prices!
I do not recommend shopping here too much. Because they said the price is abnormally high.
If you find what you want, you should tell the price you want to buy, rather than asking for the price of the souvenir.
 ・In my case, it was said that the price is three to four times! (And I bought in Japanese yen)
The figurine of a coconut I got before is looks only 300yen(100Bath) or so、The first price offered was "600Baht = 2000yen(US$19.4)"  (so I got it JP1000yen..cuz I haven't enough money..)
If you want to buy here, it is better to buy at Asiatique!!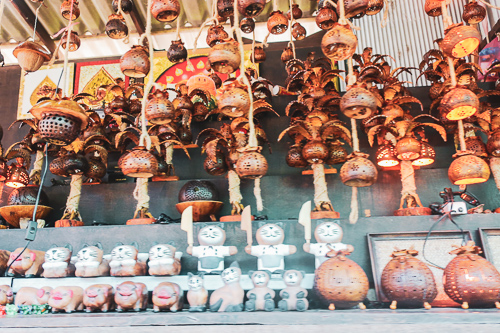 ・There is also a selling food!
The floating market is not only a souvenir shop, but also selling drinks and ice cream or food.
・The guide bought me some fruit!
When I got off the boat, Guide gave me a fruit saying, "Everyone eat! You have some delicious Thai food!"
It was delicious with mango and rambutan and fruits that taste like grapes!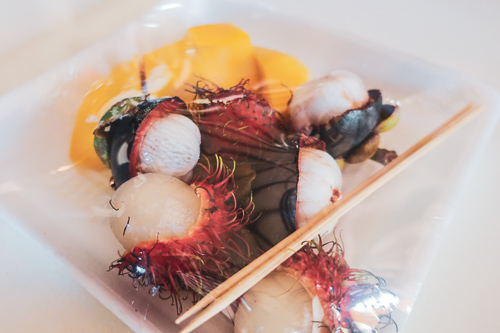 Look around the souvenir shop in free time
After that I had free time so I went around to see the souvenir shop!
There are souvenir shops besides water! However, including here, there is a negotiation system too!
My mother-in-law said, "I want a bag for two souvenirs," so I bought a bag ...
The first asking price was "One by 1600Baht(US$51.7)". And bought "One by 1000Baht(US$32), Two by 1800Baht(US$52)" !
That was TOO HIGHT... I should have negotiated more...!!
When it gets cold, I thought about Two by 800Baht(US$25) ...
My mother-in-law's got high shopping ... 
 ・Negotiation technique which never loses!
Later I will master the negotiation method perfectly in this Thailand trip, This is Negotiation points!!
Point①
 Ignore the asking price

Point②
 Tell the price of the ideal

Point③ When it is higher than the ideal price, you must says "Then I don't need it"
Only this.
First of all, please ignore the asking price!
If you ask the asking price, it will be a normal price.
Next, please say clearly the ideal price!
I think it will probably be One-third to Quarter the asking price. that's OK.
Finally, if it is higher than the ideal price, please say "don't need it!"
If you say why it is better to say "I do not need", because they cuts the price without permission like "Well, what about 〇Baht?" And "If so,〇Baht?"
If they really lose at the ideal price, then they will be "do not sell", If it makes a little profit, they will sell reluctantly.
Then, depending on what the baht is the ideal price ...
・Cashmere and silk stall costs 200Baht
(
Airport price 390B)
・Accessories or figurines also 200Baht
(
Airport price 395B)
Why to present the airport price is even a high souvenir shop inside the airport was about that.
I was told 600Baht when buying small items, and I bought souvenirs at a higher price than the airport in India...
I think everyone probably have 1000 to 2000Baht in wallet when you go to a souvenir shop, and it is human beings who put out if you have it!
And Souvenir stuff know about it !!
So you should tell ideal price cleary or do not buy there.
It's Fun! Run through the river in Thailand with an engine boat!
After going around the souvenir shop, I took an engine boat and moved the river in Thailand, which is much fun! !
It is good to have a small boats, but it is very cool and comfortable if you run the waterside with speed on the engine boat!
It is unique to Thailand to move the river!!
Lunch is a hotel buffet
In the morning, I had a great experience with the MaeklngMarket and Floating market!
After that, we had a hotel buffet in the city of Bangkok at noon!
・It's a...  I did not fit the mouth ...lol
I can not say so loudly ...It was not so delicious. lol It may be because I wasn't hungry so much!
Once we're ready, leaving to see the Ayutthaya ruins in the afternoon!
Wat Yai Chai Mongkon is full of Buddha statues
At first we arrived at  World Cultural Heritage "Wat Yai Chai Mongkon".
It is a memorial tower when it won the battle with Burma (Myanmar).
・I climbed to Wat Yai Chai Mongkon!
This tower can be climbed. It was a tower that was so tall that didn't think it was built by people of old!
Around this temple there is a circle of Jizo. It is interesting the face is different one by one!
・Pray for the snake god at the main hall
It used to be a prayer at that tall tower, but now there is a separate main hall.
There is a statue of a snake next to Jizo in the main hall, so I prayed for the happiness of Thai people. Because I was born in a snake year (in Japan).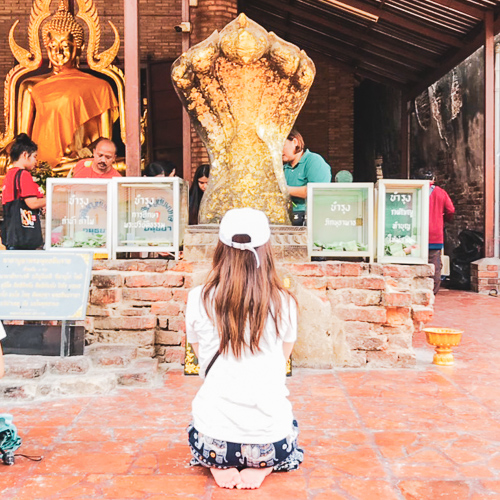 ・Many Thai Buddha is sleeping well! (It's a Dying-Buddha)
Thailand has a deeper Buddhist faith than Japan, and there are many Jizo like that.
Among them, there are also many Dying-Buddha! I feel that many of them are smiling gently.
I got on an elephant in Ayutthaya! !
 Next to  Wat Yai Chai Mongkon, we went for elephant riding!
I took an elephant around the same Ayutthaya!
Look! An elephant in the show! (cute!)
・Second time in my life. Get on the elephant!
I took an elephant on this tour last time, so it's my second time to take an elephant (even though I've never got on a horse!)
Put your feet on the back of the elephant and sit in the seat. Height ... so high ~! !
・Elephant first on the road
The elephant is not a car, a train or a boat, and has a unique swing! Thrilling and interesting!
And the Ayutthaya elephant ride follows the public road! Much bigger than a car!
・Elephant man asked me for a tip when I finished riding! lol
When the elephant ride was over, the elephant man was told "Tip! Tip!" So I gave 20 baht.
Depending on the person, it may be said, "More!" And last time accessories sales started while riding on an elephant (lol) this time was fine!
The elephant man who the parent-in-law got on was also said to be "tip me", so they gave it, but how the nose of elephant took that tip!
It may be better to prepare a tip to ride an elephant comfortably.
・Gave me a water and go next place!!
When elephant riding was over, guides distributed water one by one!
Thailand is a fierce heat of around 40 degrees, cold water is welcome!
After this, I will visit three more places! !
The king is sleeping at Wat Phra Si Sanphet
Next arrived is the second world cultural heritage "Wat Phra Si Sanphet".
It is said that Thailand has historically fought against Burma (Myanmar) , but it was a peaceful and happy time when this temple was built. But then they lose to Burma and they destroyed the temple.
The ruins of Ayutthaya are broken everywhere because they were lost and destroyed by Myanmar, and the red brick part is a trace that has been repaired.
Here is the original appearance of this wat plush sun pet. The three remaining towers are great too, but...If it was remaining the main hall on the right side...It would have been a very nice building!!
Now there is a beautiful main hall in another place and people seem to be praying there.
・Wat Phra Si Sanphet is the King's Tomb!
Even so, "Wat Phra Si Sanphet" is wonderful! I like this here most at Ayutthaya ruins!
This is the tomb of the king, and it seems sleeping here who Louis VIII, Louis IX, and Louis X are  from the right.
・We can't climb now!
When I went in 2016, it was OK to climb, but now it has been banned.
It was like this when I got close↓(It was 2016)
・Here and there are broken
Here is a trace of the main hall that would have been admirable.
The part of the brick is a trace of restoration. Repair is quite halfway...(lol) I think that it would have been completely repaired if it was Japan...
Things that are broken like this are left behind.
・There are many dogs
There are many dogs here (although there are dogs around Ayutthaya). Of course you can't touch it, and even guides were avoid dogs. It is cute in the distance.
Wat Mahathat has a Buddha face buried in the tree ...!
The third world cultural heritage "Wat Mahathat" that I headed to next to that.
 Which everyone has ever seen... Buddha face is buried in the tree!!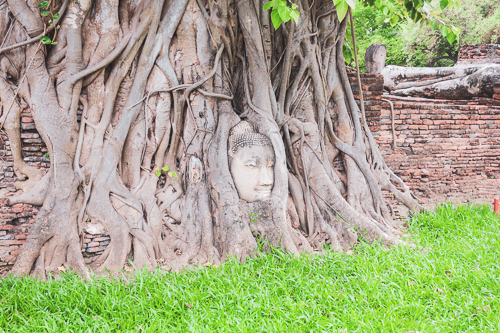 Ohoo ~ Mysterious.
This is also a temple around, but most are broken.
It seems that gold and jewels were put in the temple and the head of the Buddha statue ... so they were broken and brought country.
I guess they could not bring back the head of this size Buddha statue.
・Drink Mango Smoothie!
I had already tired, but there was one more place to go, so I decided to drink a mango smoothie here! Last time I drank a mango smoothie here too!
I think one 50Baht (US$1.6)! The people in the shop were also kind !
 Wat Lokayasutha
Take a family photo at Wat Lokayasutha and finish!
Finally it is the end seeing the fourth world cultural heritage " Wat Lokayasutha".
This is a world heritage site that can be seen quickly from the parking lot. 
That's all, the recommended & fun local tour!
Is there anyone who has read this here? ?(That's toooooooooo long!! sorry!)
As you can see, it was a enjoy Thailand local tour from morning to night!
It was really fun, and I think it was a good memory for my parents-in-law too!
If you are concerned about this tour, please see below! It is a tour I participated!
TheAyutthayaRuins+ElephantRiding+FloathingMarket+MaeklongMarket Day tour 

Next, I will write Thai BBQ "Mucata(? I don't know how to spell)" which I ate after returning to the hotel!
looking forward to it!
Sayonara~!!