Finally...the time has come..
I got on the ANA BUSINESS CLASS for the first time!!!!
I used it Japan(Narita national airport) to Mumbai(Chhatrapati Shivaji International Airport) about 8hours flight in round trip!!
It was different everything's Economy and Business ...
I try to white down here I'll not fogot it !!
I got on a ANA B787-9 business class !!
I got on the ANA's B787-9.
A sheet is FULL FLAT !!!!
There is no door but It's like a semi privete room.
It couldn't see the next parson's face at all when I sit down.
And there is too far the next seat.
I was enjoying my time and my space while flight.
・Full-flat seat like that !!
Naturally, It's bigger seat & foot space than Economy !!
And It's full-flat like that.
I was able to lie down at an angle 180° !!
・Screen also bigger than Economy !!
Screen is quite big!!
It's neally twice as large as Economy's one.
・There are so many buttons in the chair.
Economy can only recline a chair..BUT!!
Business chair can move before and after and recline untill 180°, also It has air bag on the waist part !!
I never got tireing even if I flight 8hours!!!!
ANA BUSINESS CLASS is course meal !!
I was able to choose Japanese style or westan(french) style !!
Plus Westan style has 2main desh, so I could choose more I wanted one. 
I was able to eat bread anytime I want,
FA here me drink order so many times (more than necessary!!).
I couldn't thinking that there is on a airplane!!
・At first, FA gaves me a hot wet towel and put a table cloth and cutlery.
It's like a notice that dinner will begin.
At first, FA gaves me a hot wet towel and put a table cloth and cutlery on my table.
It was like a restaurant service !!
・Amuse was bit salty, It's for much with alcohol!!
This route flight has CHAMPAGNE !!(Other route flight often not being prepard on it. Usually on sparkling wine.)
BUT unfortunately I can't drink alcohol...!! 
Amuse tasted bit salty, but I supposed to super much with champagne!!
・Appetizer was a beautiful dish !!
Look !!
So beautiful dish!! Plus it was really delisious !!
FA put on hot two breads on side dish, and heard me about do I use oliveoil.
・Main dish chose a Chiken-stake with lice. 
Outwardway  I chose a Chiken stake and Homewardway I chose a beef stake !! 
It was really heavy(mean large meal), I got quite full !! And so delicious !!
・I was able to choose dessert one out of three !! 
FA brougt the dessert wagon and tree tipe of desserts on it.
I chose a september only cake !!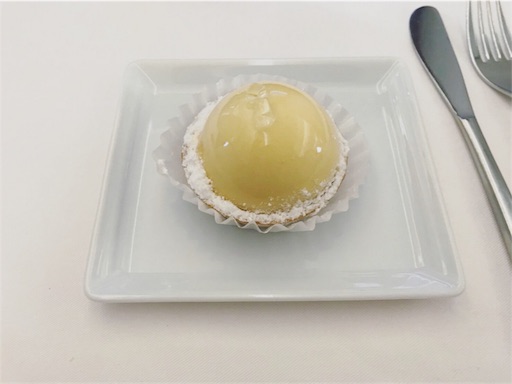 ・Homewardway dinner like that !!
It was the same flow of meal go and return,
but It was different of meal contents !!
I chose westan style too, like that !!
・I had a Ramen of "IPPUDO" by Light food. 
FA heard me "  Would you some light food like a ramen??" at one hour before arrival.
In just noon, I had it instead of dinner.
Other light food is a Assoted cheese, Mix nuts, Soup, on it.
" IPPUDO " is famous ramen in Japan, so tri it !! ( However, taste was bit different ..!!)
・There are many kinds of drinks !!
We able to  choose drink on Economy class too.
But Business's one is over twice as kind of drink as Economy's one !!
After waked up, I drunk hot Chai or Houji-tea.
This is Amenity of ANA Business class !!
Also It was different Amenity in Business and Economy.
・Amenity on the seat before hand.
Before hand put on my seat is " Headphones, Slippers set(slippers,slippers bag,shoehorn),pillow,matress,quilt " that's 5set. 
Slippers set is okay if we bring out.
The cute bears is mine !!
I bought them outwardway on the flght.
It can buy only airplane!! ANA flight bear !!
・FA gave out Amenity.
FA heard me "would you like some Amenity??" and show me a basket in Amenity.
Toothblush or Eyemusk or other item in it.
If you'll miss at this time, It's okay because.. 
・Amenity put on the restroom.
Actually, put on the restroom them!!
Toothblush, Mouthwash,Face&Bodysheet on it.
ANA's FA service were PERFECT !!
As you can see, ANA's business class was great !!
BUT.
I'm thinking about it depends on FA that the flight is great or bad. 
How about ANA's FA was,,, definitely PERFECT !! 
Like that..
・At first, the charge FA greeted me.
The charge FA greeted and little talked after boarding.
And then, she was bringing some welcome drink. ( I could choosing which more I want.)
Japanese FA are studied about service perfectlly in school,
feel so good when gave me them service.
・Always they caring about me.
Before dinner, after dinner, after woke up, when looking outside,,, They tell me like " Would you like some drink??". 
Or when I was watching Dutty free item book, " Could I take somethings?? " .
They were always caring about me. 
・When I getting off the airplain, FA was greeting with my name.
Pleasant happening is FA greeted with my name when I getting off, like
"Thank you, Miss Natsumi."
 It's a trifle, but those words stuck with me.
That' all about ANA Business class!!
How was it ?? This is the ANA Business class !!
Recently I've been on LCC only, after all ANA was perfect !!
I want to on a ANA Business class  again.
And if possible... I want to on a Fast class sometime !!!!
( It might be not come true...)
Evryone, let's come to Japan on ANA 〜!!