About a month passed from Mumbai travel !!
I'm gonna write down about Mumbai travel before I'll foget it.
It was so funny defference of culture in japan.
This time talking about,,, Elephanta Caves!!
Speaking of the Mumbai-torist spot is Elephanta Caves!!
There are not many tourist destinations in Mumbai.
So always taken up the Island as a Munbai-torist spot.
This time I went to there by myself. (Not Tour)
I'm gonna summarizing How to way of doing, and How much does it takes,and more..
Pls check it out!! 
A boat is out from the Indian gate
From the Indian gate we've started off to the Elephanta Island.
You must buy the round trip-boat ticket infront of entrance.
・ Boat ticket fee is  ADULT: Rs.200  CHILD: Rs.125
If you'll got it, Do not lose it until you'll return here.
Because it's round trip ticket.
The boat is staying near the harbar, walk to there.
・Boat 2nd floor takes more Rs.20
Bort has 2nd floor, but it takes more Rs.20
If you want to go 2nd floor, you'll pay extra the flont of stair on the ship.
・It takes about 40-50mins to the Elephanta Island. so long..
It takes long time, about 40-50mins.
If you get easy to seasick, you should take a madicene beforehand.
Gas smells so bad around the engine and behind the one.
Also bad splashes ahead of the ship.
and 2nd floor is too hot...
I think the best seat is the middle of the boat.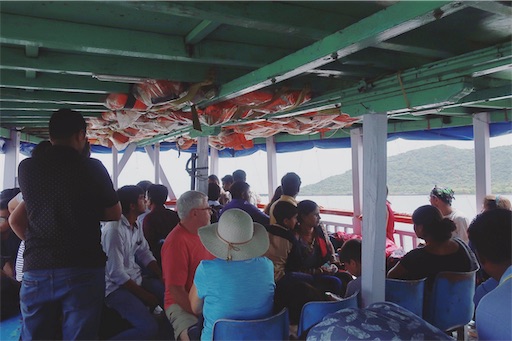 This is the Elephanta Island !!
・Let's take the mini train !! (10 Rs.)
I recomend to taking the mini train !! It's Rs.10/per
Because litte bit far from habor to central erea !
It takes about 5-10min.
Really hot outside and get tired than usual, so take it better.
・Get to the central erea, climb the long long staircase!! 
Let's climb the long long looooong staircase!!
But beforehand, stop by common restroom.
There is right side of central erea, and behind of the restrant.  
It takes few tips(below Rs.1), but not so dirty and safety!!
・Souvenir shop is besiclly rip-off!!
There are many souvenir shop but that's too high-price!!
I got a small Elephant figurine, first price was Rs.2000!!
and then, I bought Rs.1500..but!!
I found out same one in the city shop, how...!!
Only Rs.250!!!!
Even at the airport-shop about Rs.1000 !! 
I can't recomend those shop..
・Elephanta caves admission fee: Rs.600/per. 
Little bit high price, isn't it??
This is the Foreigners admission fee..
Indians admission fee is...
・also rip-off !?!? Over 10times defference between Indian and Foreigners !!!!
Indians admisshion fee is only Rs.40/per!!?
What is the defference!?!?
I hate here at this moment. I couldn't belive it..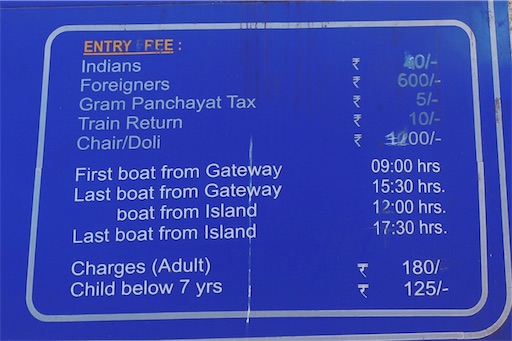 ・Remains are...so so.
There are some big remains.
If you like watching remains, could be enjoy here.
and I'm not so interested in it, I didn't feel big impression.. 
・There are a lot of wild monkey !! so cute!
I think better that I saw a lot of wild monkey!!
They are used to people, so they are safe if we don't hands out or we having food.(a person having food was stolen by monkey) 
・Be careful to persistent tour guide after get off a boat.
I was cought up  to a local tour guide as soon as get off a boat. I told him "I don't need it" over 10times, then he told me " It's okay just Rs,20/per". But it's uncertain that it can really be enough.  It was quite tough but finally gave him up.
Surely he is innocent and his English is clear, so I think he'll do perfectly. But I did it better. Because as you can see, there was unusual fee for foreigners!!
I bet It'll not finished only Rs.20 !!
Impressions: It doesn't have to go but it'll be killing time.
That's all about Elephanta caves.
It takes Rs.800 only boat ticket and admission fee and takes about 3hours.
If you don't hava another plan, better to go there.
But I think you don't have to go take trouble to do.
I strongly recommend the Sulm tour than there !!
It takes more money BUT It can get more things. 
★VELTRA:SLUM TOUR <from Mumbai>★