I went to the summer goldfish event
'Nihonbashi(Tokyo) Art Aquarium2019'
Today, I went to the second summer goldfish event
'Sumida Aquarium Goldfish Wonderland 2019' !! 
I go to the Sumida Aquarium every year at this season!!
Because the Japanese summer is exciting with goldfish!
Although it was not as large as the 'Art Aquarium', but  Nostalgic and Adorable goldfish  there were!!
Then I want to start a report !!
Speaking of goldfish events in summer in Tokyo! Sumida Aquarium "Goldfish Wonderland"!
This "Goldfish Wonderland" is the summer event of "Sumida Aquarium", one of the Skytree facilities (Solamachi)!!
Part of Solamachi's 5F / 6F is Sumida Aquarium, and the scale is small. However, it is the second inland aquarium in Japan that has achieved artificial seawater! (Aquariums are mostly on the sea side!)
The main Marine animals is a Penguin! ... but you can also see a large fish tank with large Sharks and Rays, and Fur-seals will take a walk when time comes! Lol
The other fish tank are always on display beautifuly, and the freshwater fish tank at the entrance is really beautiful! (I also want to make such an aquarium!)
And from summer, there will be made a goldfish path and goldfish will be the main fish !
I love goldfish so love the Sumida Aquarium this time!
Various kinds of cute goldfish are displayed with beautiful decorations, so it is recommended!
Event date 'Goldfish Wonderland'
★From 12, July 2019 ~ 31, Oct 2019
"GoldFish Wonderland 2019" like that!!
Let's see the beautiful goldfish at the Sumida Aquarium!
Goldfish Wonderland Entrance named 'Edo-rium'
Here's Goldfish Wonderland entrance 'Edo-rium' !!
The decorations of last year were also cute… This year, the theme of "Showa Era" seems to be themes, and there are many advertisements and signs that show the Showa Era! 
If you walk along this road, the floor will shake like a water surface and goldfish will flutter!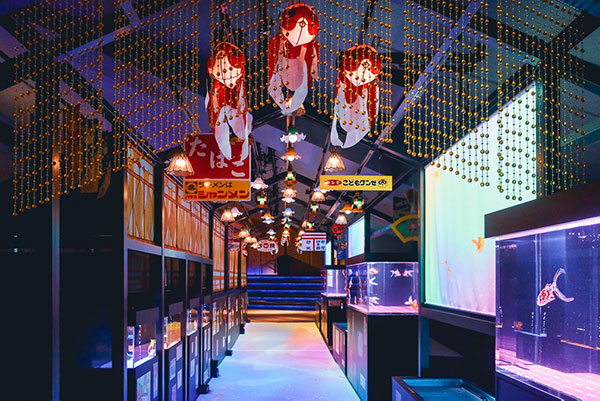 From the other side, it looks a little different! This path has an aquarium on both sides, and goldfish are swimming elegantly and cutely!
A large 'Single tailed fancy goldfish' just to the right of the entrance
This is a large fish tank at the entrance. A big 'Single tailed fancy goldfish' was swimming elegantly!
It is very similar to Comet, but this is 'Single ta....'  just Japanese Comet !!
It is a Japanese-goldfish-style flat body, but the Fin is beautiful!
Fantail has beautiful Fin!!
On the other side of the Jp's-Comet fish tank there were several smaller fish tank displaying various types of goldfish.
This is 'Fantail' has beautifur Fin!! It's Elegance~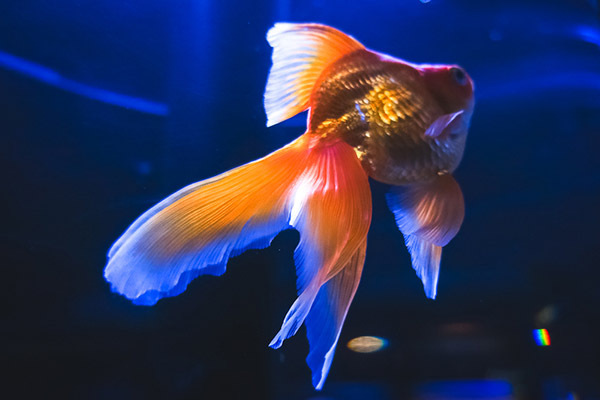 It's so beautiful so show the only Fin!!
Look!! A supple and beautiful Fin! It's a ten!!

This is 'JiKin' has White and Orange body!
I don't know how to call in English but the Japanise name is 'Jikin'.
The fish Caudal fin is open in X-shape seen from above!
The goldfish fin is also beautiful, so look at it alone! ! 
Goldfish is beautiful when seen from above
This path also has a low fish tank as seen from above.
There were some unusual goldfish swimming!! It's cute!
Goldfish lanterns and a lot of Japanese gold fish under them!
Goldfish will continue to be displayed on the left hand side of path.
The goldfish here are used to humans!! 
In particular, Japanese gold fish closer when you come front of the tank.
Super cute friendly Lionhead goldfish!! 
Otherelse, The Lionhead goldfish also friendly!!
There were two Lionhead swimming in a flat aquarium, and they were coming closer slowly with shake them body! !
Look!! Super cute isn't it!?!?
Also 'Edonishiki' has Lionhead too!!
The fish also has super lionhead, cute!!  Can't stop saying K A W A I I !!
There was also a goldfish introduction corner!
There was also a corner where you can see what kind of goldfish in the world !
Again, I'm interested in the goldfish Fin, but this photo is a nice that reflects the fin and reflects goldfish!
The Sumida Aquarium is dark overall, and the fish has spot light, so you can take the goldfish beautifuly!
Goldfish Stalls were on a business trip to the Sumida-ku Goldfish Festival!
I though there's no Goldfish Stalls but...
Goldfish stalls went on a business trip to the Sumida-ku Goldfish Festival!
I went to the Festival after the Sumida Aquarium, so I could see it!!
This goldfish stall is always in the Sumida Aquarium, and introduces small goldfish like this!
There are also 'Ping-pong pearls' and 'Bubble-eye' that you don't usually see!
That's all the Sumida Aquarium Goldfish!
Other Sea creatures at Sumida Aquarium
Sumida Aquarium has beautiful creatures that are not only goldfish!
Show you I'd took some cute pictures!
Speaking of Sumida Aquarium, it's a penguin!
The main Sea creatre of Sumida Aquarium is a penguin!
They swim in a big tank in the middle of the Aquarium!!
There're 58 Pentuin!! So many! And cute~!
Unfortunately haven't the English ver..
This is Penguin correlation diagram!! 
The relationship between broken heart, BL, and play love?! The life of a penguin is here! !lol
引用:「LOVE推しペン超選挙」アイドルペンギン・プライベート大公開!! | すみだ水族館
There is Large fish tank even in the capital!!
This's a Aquerium of Tokyo but... There have Large fish tank!!
There are also big Sharks and Rays here!
I always think that small won't be eaten by sharks or rays...?
By the way, the Sumida Aquarium is almost always crowded, but If you come here in the morning, you can enjoy the aquarium with few people!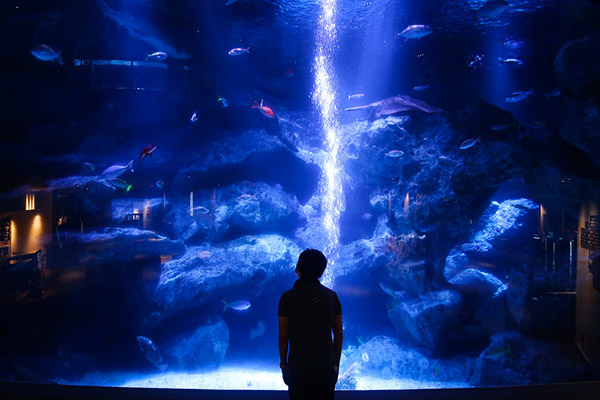 Healed by fluffy jellyfish!
There are many jellyfish exhibits! That's why Sumida is bringing up jellyfish in the aquarium!
You can also see the process of growth jellyfish!!
The jellyfish on display are swimming freely and can be healed just by watching!
Funny Heteroconger-hassi tank!!
Funny tank is a Heteroconger-hassi's one!!
Many Heterconger-hassi put them face out, and then I closed to them, they dived into sand. 
It seems the Heteroconger-hasshi often fight themselves...lol
Other beautifue sea fish
The Sumida Aquarium is filled with so many interesting things!
There were some fish that were neatly displayed in a small tank!
This is NIMO!! The official name is Amphiprion ocellaris.
Goldfish are cute, but sea fish are colorful and have their own personality, cute too!!
That's all living sea creature of the Sumida Aquarium!
Summary of Sumida Aquarium
 Finally, I would like to briefly summarize the Sumida Aquarium Businesshour and Admission fee.
公式HP:Sumida Aquarium in Tokyo Skytree Town - Official site
Admission Fee
Adult:¥2050
High school student:¥500
Middle school & Elementary school students:¥1000
Child(over 3yearsold): ¥600
Under 3yearsold: Free
Business Hours and Closed days
BusinessHours:
9:00~21:00
Closed days:
Open all year round

※Business hours may change due to weather conditions
It's doing from early morning until late at night! And it 's open all year round! (Really?! lol)
Access
The Sumida Aquarium is located in Tokyo Skytree Solamachi, so please aim there!
Nearest station
Tobu Sky Tree Line 'Tokyo Sky Tree Station'
Tokyo Metro Hanzomon Line, Formation Oshiage Line, Toei Asakusa Line 'Oshiage (in front of Sky Tree) Station'
・Heading to the aquarium from the 4th floor of Solamachi
Once you get to Solamachi, walk through the building from the 4th floor, walk through the veranda where the Sky Tree entrance is located, and if you go further, you will see an escalator to the Sumida Aquarium. There is a reception desk when you go up there!
・Google Map 'Sumida Aquarium'
Tokyo Skytree Town Solamachi 5-6F, 1-2-1 Oshiage, Sumida-ku, Tokyo 
That's all about 'Goldfish Wonderland' in SumidaAquarium!!
That's all Goldfish events unique to summer and the lovely living creatures of the Sumida Aquarium!
I learned about Penguin and Chinago while writing this article, so I wanted to go to the Sumida Aquarium again ... lol
If you visit Tokyo, please go to there!! The summer in Tokyo is too hot, but the aquarium is cool~