Well,The travel report of Thailand is also the end.
The third day, We played in pool of hotel, and ate Taisuki in the town,and... 
I went to see the calypso cabaret at Asia Thiek at night!
ASIQTIQUE is a big night play facility with good atmosphere and very fun, and you can see the DragQueen-show in it!
This is a present trip to parents-in-law!
If they don't get to see the DragQueen-show in Thailand, Their journey can not be over! ! !
I went there for that !!
I have a good seat and Father got a present from Ladyboy ...! Lol
Then please take a look!
Thailand's Drag Queen Show is Calypso Cabaret(in Bankok)!
Calypso Cabaret in Asiatique is a Drag Queen Show that celebrate its 30th anniversary this year!
Of course we saw it when we came in before, but we enjoyed it more than we expected, so we definitely wanted our parents to see it!
The cast is Ladyboy and the Calypso Boys who show songs and dances!
The program is easy for tourists to understand. It is a show that takes about 1 hour, such as ones using famous music from around the world such as Korea, China, Japan, and imitation of Western music.
I took a lot of photos and videos, that was OK!
Let's see it!!
When you arrive at Asiatique, get the ticket!
I made a reservation in Japan in advance!
First, when you arrive at Asiatik, show the printed and printed paper at the reception desk and exchange it for a ticket.
Our seat is…A1~A4!
That means...there is a seat what such thing or...!!
The time has come! Entrance! !
When it is time, show the ticket to the entrance staff and go up to the second floor.
It is finally the beginning of the show ...
・Calypso Cabaret's toilet is clean! You should be done here!
The toilet here is quite clean◎! lol (important!) So I recommend that you finish the toilet here!
The seat and seating chart look like this
A place that was sparkling when I got inside!
There are staff inside, and when I showed the ticket, they guided me to our seat!
By the way, the staff is male and aunt !!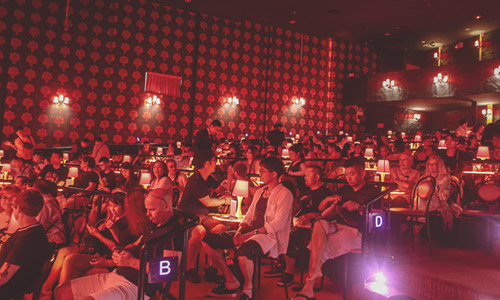 ・Seating chart
The seating chart was like this! The red circle is a table.
Our A1-4 seats are ... The first seat in the middle!! Lol
Order a drink when arrived
The staff came to take order the drinks when we arrived!
This show comes with a free drink!
There are some soft drinks and also alcohol too◎!
It can choose a drink from on the right side of the show ticket!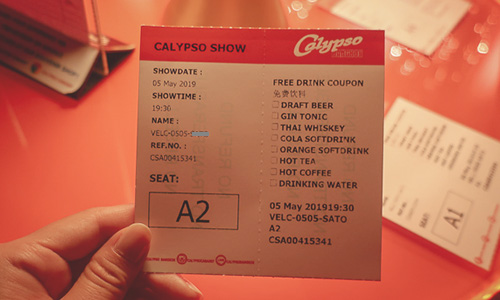 The show started while I was drinking!
The show will begin! A photo y and a video are released!
Well, from here, I would like to add photos and videos of what Calypso Cabaret felt like.
As you can see, Calypso Cabaret was OK to take a photos and videos!
It's better to UP on Facebook/Instagram/Twitter cuz They have it◎!
Last time I uploaded the video to Instagram, I got the "good' from cast himself !!lol
・Calypso Cabaret has begun! All voices are men! lol
The song is sloppy, but the introduction makes a voice. It was really a "man"! lol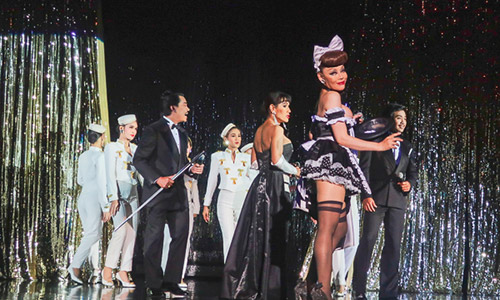 ・The theme is China! Oh ... I'll see the tits ...!
There was no fall off ...! (Regret)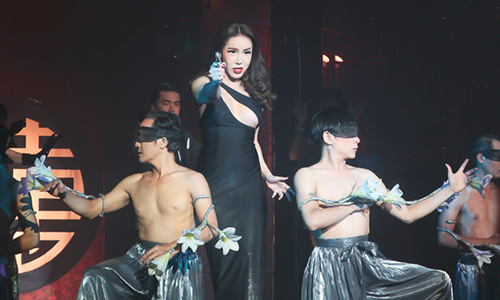 ・The program is rock! Both men and women dance! !
Watch! Plenty of breasts! Nothing crotch!
"Ladyboy also cut out adam's apple" the taxi driver said on the way back. Nah, I see ...!
・Last time Beyonce, now Rihanna
This is a mimic show! Two years ago, it was Beyonce, but now it has been changed to Rihanna!  Oh, the...Dissimilar......lol (If anything Janet Jackson, isn't he??)
・Even Calypso Boy wears a BIKINI !wow
The left is Ladyboy, and the right is Calypso Boy.
Speaking a little more easily, the left DO NOT HAVE, and the right HAVE.
・By the way, dance is not 100 points.
It's about 7...60points.lol  Maybe some people have been working for a long time, who couldn't up him hans to the shoulders.
It is Calypso Cabaret including it. lol
・Calypso Cabaret celebrates its 30th anniversary!
Congrats! I will come again!
・How was it like this?
Hmm? Is it boring? ? Oh...so Let's show you the amazing video!
・Calypso Cabaret laugh movie!
Well, here is my favorite Japanese program!
This is ... really funny!! 
A man from the middle will be locked on! Have a look!
・It is my father-in-law who was kissed. LOL
I thought I was wondering if it happened ...
After all this seat (A1 or A2) was a special seat that can receive a kiss!
No ~ I guess he got the best memories! LOL
The kiss mark is also a Japanese-style professional shape! LOL
Take a photo with a beautiful ladyboy when it's over!
When the show is over, casts are lined up outside the corridor, so you can take your favorite casts and photos!
About 40 to 50Baht for Tip
It is a good manner to give a tip to the cast which you took a picture with !
It seems to be good to give out about TWO20Baht bills(=40Baht) or ONE 50Baht bills◎!
  How to get to ASIATIQUE
Finally, it is the way to Asiatique!
Getting to Asiatique is not so difficult!!
There are two ways to go to ASIATIQUE,
Route① go to by TRAIN & BOAT
Route② go to by TUK-TUK or TAXI
I will explain easily with an illustration!
Route① People who have a distance to the ASIATIQUE, Take by Train + Boat!
<< Route① Train + Boat >>
1: 
 aim at『
Span Taksin Station
』by Train

2:
⇔
Change to Boat

3: 
  go to ASIATIQUE
by Free Boat !!
1: aim at『Span Taksin Station』by Train
At first, aim at 『Saphan Takshin Station』
『Saphan Taksin Station』 is just on the side of Chao Phraya River and is also a『Sathorn pier』!
At the bottom of the middle of the map is 『Saphan Taksin Station』.
Bangkok Route Map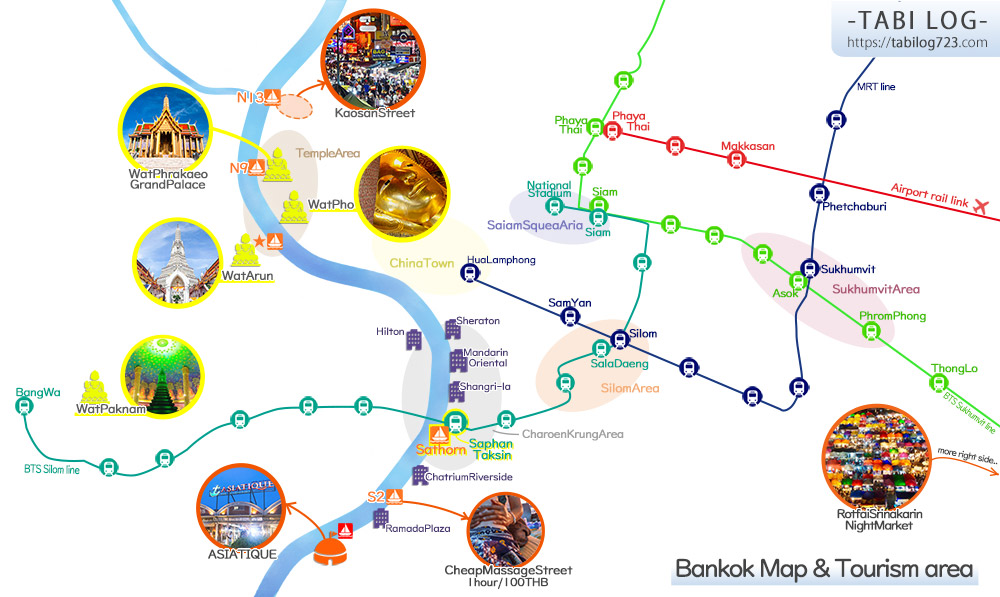 ※Click on the map to enlarge! Please save and use locally! (Please note that we can not take responsibility even if there are mistakes or changes in the contents ...)
※If you want to use it for commercial use, please be sure to put a link on this page
2: Change to Boat 
A short walk from Saphan Taksin Station Exit 2 is Sathorn Pier!
There is a free pick-up ship to Asiatique at the very end, so please wait to the boat there!
 Bankok Boat Route Map
※Click on the map to enlarge! Please save and use locally! (Please note that we can not take responsibility even if there are mistakes or changes in the contents ...)
※If you want to use it for commercial use, please be sure to put a link on this page
3: go to ASIATIQUE by Free Boat !!
There is a free pick-up boat from the dock, and it takes about 10 minutes to get to ASIATIQUE!
Please note that the Free boat bussinese time is... from 16:00 to 23:00!
Route② go to by TUK-TUK or TAXI
There are also be going to ASIATIQUE by TUK-TUK or TAXI◎!
As I stayed at a hotel near 『SaphanTaksin station』,so I went to ASIATIQUE from there, by TUK-TUK It was 60 to 100Baht for two people! (When there were many people and return way was 150-200 baht ...!)
However, it seems that it costs at least 200Baht if it is a taxi, or more...(Because most  taxis negotiate)
 ASIATIQUE Adress & Map
Adress
Charoenkrung Soi 72-76 , Charoenkrung Road, Wat Phrayakrai District, Bangkor Laem, Bangkok 10120
(Thai)
ซอยเจริญกรุง 72-76 ถนนเจริญกรุง แขวงวัดพระยาไกร เขตบางคอแหลม กรุงเทพฯ 10120
ASIATIQUE MAP & Location of Calypso Cabaret
Here is the entire map of Asiatique. It looks small in the figure, but it is quite large  facility!
In the area of ​​the red circle, there is a reception and venue for the Calypso Cabaret! Please complete the reception here and receive a ticket!
 How much Calypso Cabaret? Recommended way of reservation!
The last is how to book a ticket!
You may go and buy directly on the day, but it is recommended that you make a reservation in advance!
Because it is cheaper to make a reservation than buying at the ticket window.
The official price of Calypso
It is a price issued on the following official website.
(The show has 19:30 performances and 21:00 performances twice a day! )
・Reservation price from official HP= 900Baht
($29)

・Calypso ticket window(directly) price=1200Baht
($39)
VELTRA which can be reserved at the price of official HP is advantageous!
In fact, you can make a reservation with VELTRA as well as the official HP reservation at the same price (900THB!)! 
So, for those who are not comfortable with English, it is easy to make a reservation and print the reservation paper → show it on the day of the reception! 
It's really easy◎!
Calypso Cabaret Bankok BOOK 

If you want a Transfer, here!!
As it is possible to have a Transfer with + 450Bath ($14.5)!! It's better for who the hotel location is far!
If it is this, it seems that only pickup can be done and dissolution can be done by oneself etc.! Asia teak is large facility and interesting spot, so it can not go around by pickup of return!
Calypso Cabaret Bankok Book ( with Transfer) 

That's it, Calypso Cabaret!
How was it? This is a Thai Drag Queen show! I enjoyed it a lot !!
Especially this time I think I was able to give the best present to my parents-in-law !!
Calypso Cabaret was interesting, but this ASIATIQUE is also quite interesting spot and recommended, so I would like to write it next time!
See you again!!